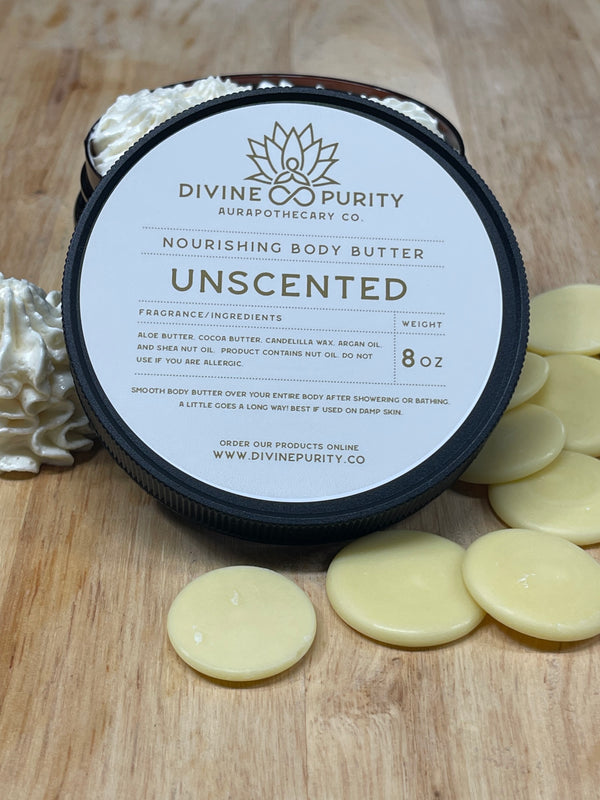 Unavailable until mid-September due to extreme heat butter will melt in transit. 
Show your skin some gratitude, and you will literally feel it say thank you.

Although unscented, our Unscented Body Butter naturally has the aroma of chocolate due to the base being cocoa butter. It's a delicate, whipped butter for you to use during your sacred soul-care time. Take in the scent of this naturally sweet aroma!  Stay in the moment and be grateful for the skin you are in.
Also Available in Cocoa Amber.
This product is handmade. Texture and consistency may change from one batch to the next.
Ingredients:
Aloe Butter, Cocoa Butter, Candelilla Wax, Argan Oil Oil, Shea Nut Oil.

Directions:
Put a small amount of Aura Bliss Body Butter between your palms, rub your hands together to melt the butter, and massage it into your skin. It can be applied to moist or dry skin.
Melt Warning: 
During warmer/hotter months, this butter may melt during transit. We encourage someone to be at home to receive the package to decrease the likelihood of being left in the sun or a hot mailbox all day.