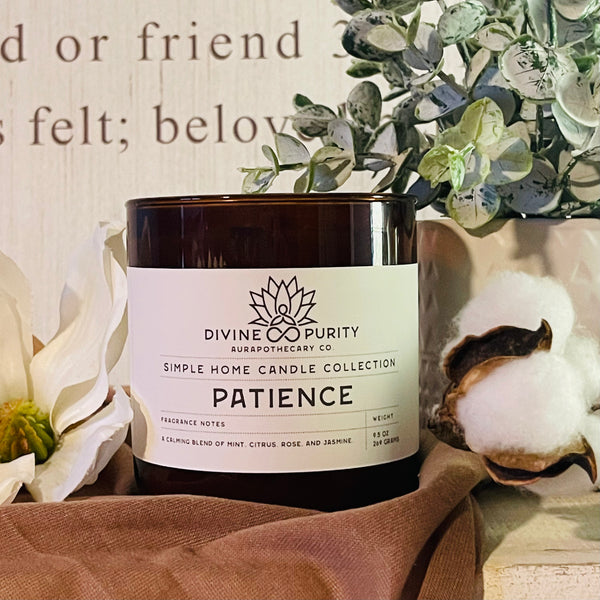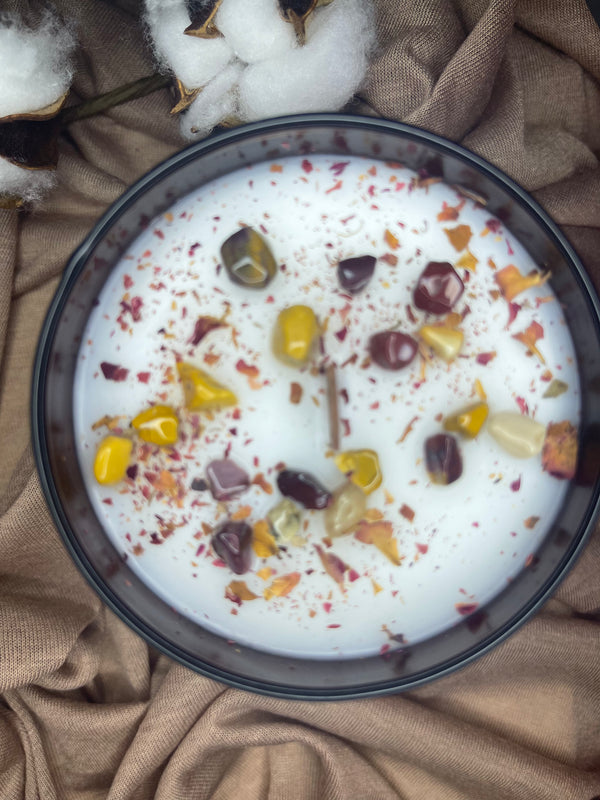 Experience a luxurious blend of aromas and ambiance with Patience, featuring a spa-like balance of refreshing mint, vibrant citrus, soothing rose, and delicate jasmine. Create a welcoming atmosphere and bask in the timeless elegance of a classic, sophisticated scent.

Burn Time: 60 + Hours
Not sure if this aroma is suitable for you? Try our 1 oz Sample Sized Wax Melts!
Made With:
Wax: Coconut Wax Blend
Fragrance: Phthalate Free Fragrance Oil
Wick: FSC Certified Wood Wick
Topped with Mookaite and botanicals.
How To Get The Most From Your Candle
All candles have a "memory," and the next time you light the candle, it will only burn as wide as the time before. Trim your wick down before lighting each time, preventing your candle from having a high flame and possible tunneling. It would be best to allow the wax to form an even melted pool across the entire candle surface before extinguishing.
Candle Safety
 Keep your wick trimmed to 1/4 inch and your wax free from foreign debris. Do not burn while unattended. Keep out of reach of small children and pets. Allow the candle to cool before handling it. Make sure to burn your candle on a heat-resistant, level surface. Do not burn your candle near flammable materials. Never burn your candle for longer than 4 hours at a time. Also, keep your candle from drafts, which can result in an uneven burn.