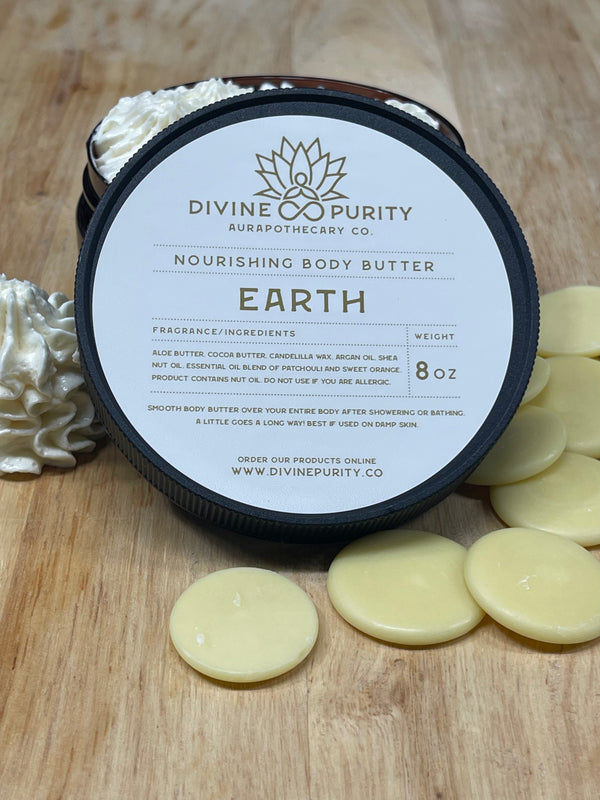 Unavailable during summer months - due to temperatures. It will melt in transit.
Indulge in the captivating fragrance of patchouli and sweet orange essential oils that blend together to create a warm and comforting aroma. The luxurious butter not only leaves your skin feeling soft and nourished, but also envelops you in a serene and calming sensation, making you feel centered and relaxed. Experience the beauty of this natural composition that offers a delightful sensory experience.
This product is handmade. Texture and consistency may change from one batch to the next.


Ingredients:
Aloe Butter, Cocoa Butter, Candelilla Wax, Argan Oil Oil, Shea Nut Oil, and Essential Oil Blend of Patchouli and Orange.

Directions:
Put a small amount of Aura Bliss Body Butter between your palms, rub your hands together to melt the butter, and massage it into your skin. It can be applied to moist or dry skin.
Melt Warning: 
During warmer/hotter months, this butter may melt during transit. We encourage someone to be at home to receive the package to decrease the likelihood of being left in the sun or a hot mailbox all day.