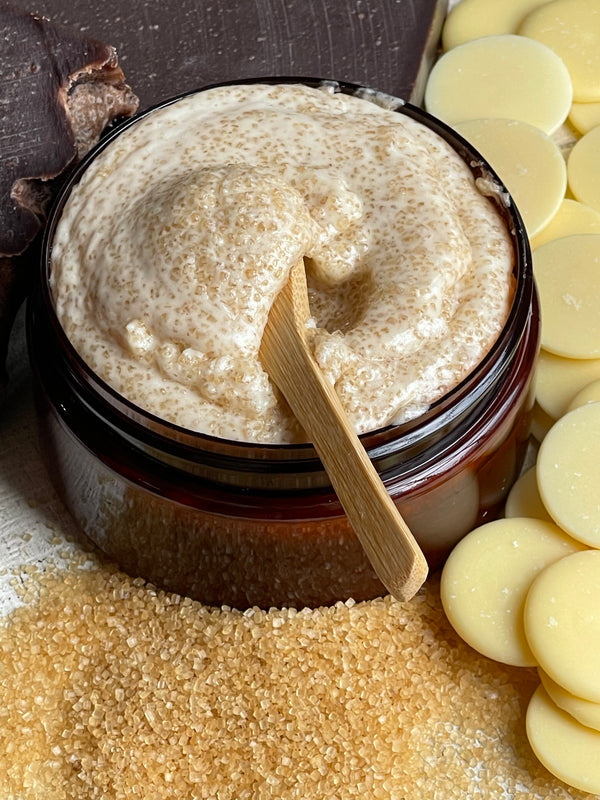 Refresh your skin with this phthalate-free emulsified coffee/sugar scrub! Our scrub is made with natural raw demerara sugar, which gently exfoliates while moisturizing to leave your skin feeling silky smooth, and refreshed. Coffee grounds add an additional layer of exfoliation, leaving your skin feeling brand new!
Ingredients:
Coffee Grounds, Raw Demerara Sugar, Extra Virgin Coconut Oil, Sweet Almond Oil, Safflower Oil, Camellia Seed Oil, Extra Virgin Olive Oil, Vegetable Emulsifying Wax, Stearic Acid, Avocado Oil, Jojoba Oil, Aloe Butter, Vegetable Glycerin, Candelilla Wax, Fragrance.
How to Use:
Moisten your body and apply the scrub using a circular motion in all the areas you see fit. Be sure to pay extra attention to elbows, knees, and heels. Once the sugar crystals start to dissolve and you experience a light lotion feel, rinse with lukewarm water. Use your damp washcloth to wipe away excess water.
Typically exfoliators can be used 2-3 times per week. However, our scrub is gentle enough to use daily.
Care
We do not use preservatives in our sugar scrubs. We recommend that you DO NOT place your scrub in the shower when using. If water gets into the container, this will cause bacteria and mold to grow. Bacteria and mold love water. So keep your product safe by simply scooping out the desired amount with your bamboo spoon and taking it into the shower with you. And keep your lid sealed tightly.